Marling Leek Limited, a Leek company that weaves and dyes webbing for seatbelts and harnesses was fined £40,257 (inc. costs) on 11 Dec.'13 after an employee seriously injured his arm in an unguarded machine.
The circumstances were:
The accident occurred on 13 August 2012 on a warping machine.
This runs at between 150 and 220 rpm to take single ends of yarn from dozens of bobbins to warp them onto a single bobbin called a beam. This happens under tension through a series of rollers.
The warping machine was installed in 1988, but the company has not since that date recognised the need to guard it.
A risk assessment had been carried out it was not suitable or sufficient as it failed to identify the risk from the tension rollers.
The risk assessment also failed to identify a risk of strangulation, as employees often crouched under up to 400 ends of strong yarn to get from one side of the machine to the other.
Marling Leek Ltd was prosecuted on 20 June 2012 for a similar incident in its dye house in August 2011. The company resolved the issues in the dye house after being served with an Improvement Notice, but did not review other areas of the business where near identical failings existed.
Andrew Thomas was operating the warping machine.
He was trying to retrieve a piece of loose yarn to stop it being wound on to the beam when his arm was dragged and crushed between two pre-tension rollers.
He was trapped for approximately 30 minutes before the fire brigade dismantled the rollers to free him.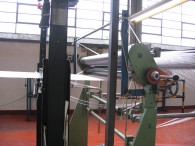 On 11th December 2013,
The HSE Inspector said:
"It is very disappointing that this company had not learned the lessons following a prosecution for a very similar incident and allowed the same failings to continue to exist in a neighbouring department. The process of risk assessment is a vital process to allow a company to identify significant risk and ensure it is complying with the relevant statutory provisions. In this case the process of risk assessment was not suitable or sufficient and this, together with the company's failure to heed warnings, has meant that a very obvious risk has been left to exist for many years. Preventing access to dangerous parts of machinery is long established and there are ample guidance and industry standards to allow dutyholders to achieve compliance with the law. This incident was entirely avoidable and Mr Thomas should have been better protected by his employer."